I don't even know what just happened, y'all.
That was the most unpredictable string of behaviors by one Bachelor I think I've ever seen.
I've never been a huge fan of this week. It's a lot of feelings, hot tubs, rose petals, sunburns, and people agreeing to the fantasy suite pretending like they're just going to "spend time together" (thank you, Nick Viall, for confirming all our suspicions last season).
Katelyn's Bali date was fine. She showed vulnerability with a bunch of monkeys. She's falling in love. She obviously went into the fantasy suite and fulfilled her quote from the first night she met Chris. Fields were plowed, people.
Tangerine Whitney had a gushy date on a boat where she made it pretty clear she's certain she's going to marry Chris. Ballsy, but I'm with her. I did think ever since her wedding crasher date that she was probably the best one for Chris. And, ya know, she's ready to make the babies and be a mom in the middle of nowhere, so she has that going for her.
But really, she couldn't have gotten a better spray tan for national TV?
So that happened, she (shockingly) went into the fantasy suite as well, and I half watched, half focused on painting my nails, and half stared at her spray tan. That's a lot of halves. It's like I've been getting math lessons from Lacey.
Then it was time for Becca's date.
I just still keep forgetting Becca's name. When did she go from "random girl who hasn't been kicked off yet" to a Top 3 pick? I blinked and totally missed it. Was she even present in the beginning of the season other than telling Chris she won't kiss him before kissing him, walking through the bridal gown mud run, and telling Kardashley she wasn't the only virgin in the house?
I digress. She's apparently never been in love before (how old is this girl again?), but she's pretty sure this is love. And she all but admits it's a possibility she may lose her V-card in the Fantasy Suite. Because "these are the feelings she thinks she's been waiting for" and "the temptation will be there."

Great idea, Becca!
I was actually rolling my eyes at her hesitation to tell Chris she was a virgin. She was worried this would be a deal-breaker?
I mean, this is Chris' face upon learning his possible bride-to-be has Playboy full-frontal nudes. For the whole world to see.

Yet, this girl drops the bomb that she hasn't had sex with anyone else, and his reaction is sort of how I'd react to someone telling me they don't like brownie batter or my car singing.
But, hey, obviously something happened, because even though she basically told Chris she's not doing splits in the air over moving to Iowa, and even though he pulled her aside a la Britt to give her the heave-ho, he changed his mind last minute and gave her the rose instead of Katelyn.
It must be because Chris can "tell Becca is a really passionate person." Bye, Katelyn.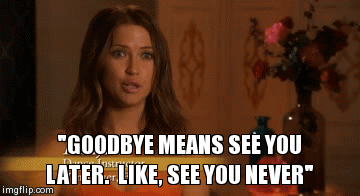 You said it, girl, not me.
[For the record, I like Katelyn and would be happy with her as the next Bachelorette (SO much more entertaining than snoozefest Andi and Des, right?). I just didn't see her with Chris for the long haul at all.]
Regardless, I think we're all in agreement Whitney is getting that final rose. And so is she.
But enough about that, I'm way more excited for the crazy that's about to come out be explained in next week's Women Tell All.
Who gets your vote for the next Bachelorette? My top two picks would be Carly (I bet they even give her new brows, aaahhhhhhhhhh!!!!!) or Katelyn for the entertainment factor.
{ 8 comments }